LEE MISSION CEMETERY BURIALS
Compiled 1996 by Stephenie Flora, Sherrill Hochspeier and Jean Custer
Updates are made on a continuous basis by Michael Staten
For needed corrections, email Michael Staten at michael@leemissioncemetery.com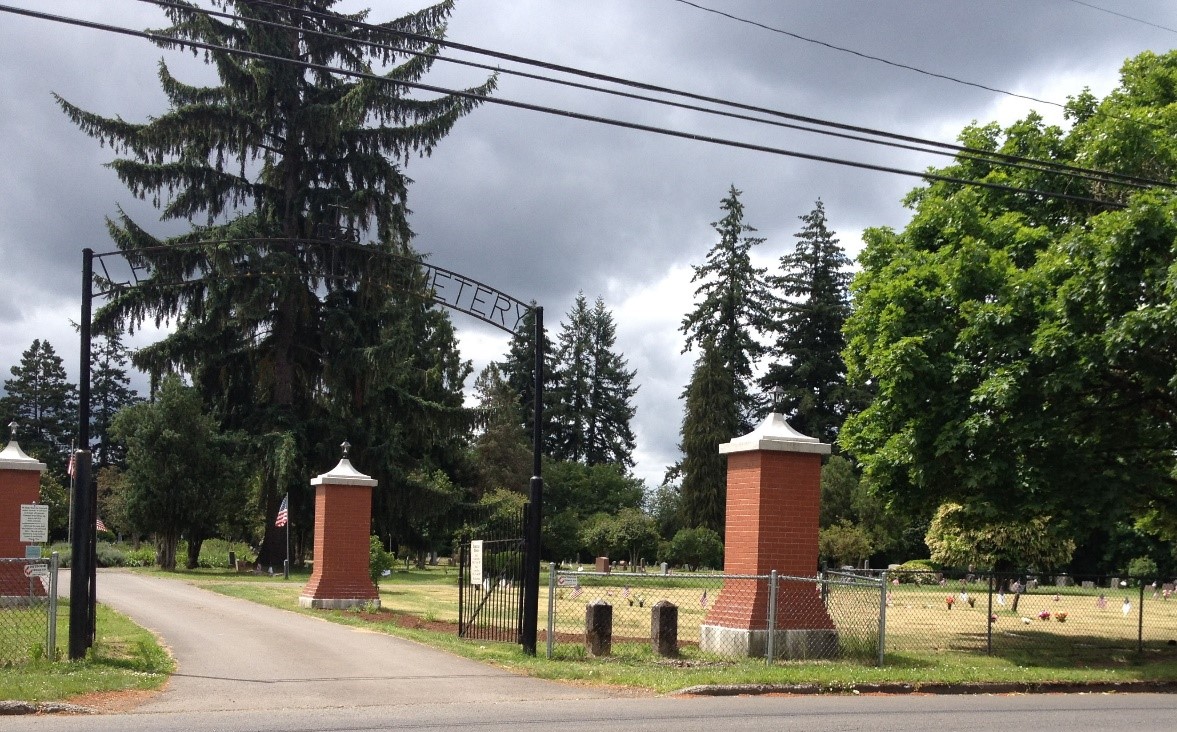 Burial Listing for surnames beginning with - O -
1) A single rose beside a burial listing indicates an unmarked grave. If you find that your family member is unmarked and you wish to place a marker, please contact the Lee Mission Cemetery Board to discuss your options and to notify them of your intent.
2) A box with an "R" in it preceding a burial listing indicates a reserved plot
3) The number to the right of the death date is the burial plot number and can be used in the plot search option to find out who is buried in adjoining plots. An N/A in the plot location indicates that although the individual is known to have been buried in the cemetery, the exact location is not known at this time. All additions and corrections are appreciated and can be sent to stephenie@leemissioncemetery.com.
NOTICE: The content of this website is provided for individual use. Commercial use is prohibited per copyright and plagarism laws, as is copying the website to another location.
OBERSHAW, Florence M.
b. 1856
d. 12 May 1943 OLD 210-01
on marker w/Samuel P. Obershaw
"At the residence, 1625 Center street, Florence Missor Obershaw, aged 86 years; sister of Mrs. J.T. Berry of Ethau, South Dakota; aunt of George C. Sackett of Vancouver, Wash., and Mrs. Dorothy Peyton of Seattle, Wash. Funeral services will be held Friday, May 14, at 1:30 p.m. from the chapel of the W.T. Rigdon company with concluding services at Lee Mission cemetery, Rev. S. Raynor Smith will officiate." OS May 13, 1943 5:1

OBERSHAW, Samuel Peter
b. 1853
d. 13 Jun 1925 OLD 210-02
on marker w/Florence M. Obershaw
"In this city, June 13, at the residence, Samuel P. Obershaw, age 71 years, husband of Mrs. Florence C. Obershaw of this city, brother of Anton Obershaw of Casville, Wis., Frank Obershaw of Oakdale, Neb., and Curtis Obershaw of California. Fun-eral services Tuesday, June 16, at 2 p.m. from the Rigdon mortuary. Inter-ment in Lee Mission cemetery." OS Jun 16, 1925, 5:4

O'BRIEN, Anita
b. 09 Jul 1912 Champaign, IL
d. 07 Jul 2009 Salem, OR A-43-04-02
d/o Charles and Golda Hebel
Anita was a resident of Willson House Retirement Center for the last 11 years. Her family moved to Salem when she was very young and she has lived there since. Her parents, Charles and Golda Hebel, formed the Cherry Bud Band who performed throughout western Oregon during WWI. Anita married Terrence O'Brien in 1941 and was the mother of three children. She is survived by her daughter, Sharon Van Woert; a son and daughter-in-law, Dennis and Glenda O'Brien; a sister, Birdie Rees; five grandchildren; six great-grandchildren; and one great-great-grandchild. A gravesite service was held at Lee Mission Cemetery.

O'BRIEN, Patrice Louise
b. 08 Dec 1949
d. 26 Dec 1949 A-43-04-01
"Patrice Louise O'Brien, at a local hospital, December 26. Infant daugh-ter of Mr. and Mrs. T.M. O'Brien, Salem; sister of Dennis and Sharon O'Brien, both of Salem; and grand-daughter of Mr. and Mrs. Charles Hebel, Salem. Announcement of ser-vices later by V.T. Golden company." OS Dec 27, 1949 12:1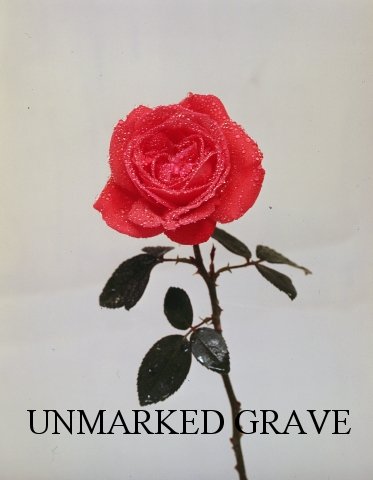 OCHOA, Martin Tapia
b.
d. 17 Oct 2019 RC-09-12
Buried: 24 Oct 2019

OCHOA ROCHA, Jose Reyes
b. 17 Nov 1952
d. 31 Jan 2020 RC-47-12
Died Jan. 26, 2020 in Oakland, Alameda, California


ODELL, Carrie Bright Taylor
b. 29 Jul 1834
d. 04 Jul 1919 OLD 138-07
Blessed are the dead who die in the Lord
"Mrs. Odell Is Called By Death--Woman Active in Upbuilding of Willamette University Passes Away--Mrs. Carrie Bright Odell, wife of General W. H. Odell, passed away at the age of 85 years, yesterday morning at 10:45 o'clock at one of the local hospitals after suffering a stroke of paralysis. She was taken ill at her home in Portland and was brought to Salem two weeks ago yesterday for special medical care.
Mrs. Odell was born in Ohio July 29, 1834, and when she was but a small girl her mother died after which she went to live with the Dr. Waters family in Kentucky, where she grew to womanhood. In her early life she taught school. She married Dr. Gynem Taylor, who died in 1888, and in 1894 she was married to General Odell, when she came to Salem, where he was presi-dent of the board of trustees at Wil-lamette university.
Immediately she took an intense interest in the activities of the university and did many things to help in the good of the institution. At one time she was head of the young women's boarding hall and gave untir-ingly of her time and money for the uplift of the hall.
Mrs. Odell was a very intellectual woman and possessed many sterling qualities. Devoting her life to helping others and the good she could do she made an endless number of friends who thought of her as a most loyal friend. A few years ago she and General Odell moved to Portland, where she was living at the time she was taken ill. She leaves besides her husband no children of her own but many people who because of her interest in heart and her kindness toward them think of her as a mother.
The body is at the Rigdon parlors and funeral arrangements will be made later when word is received from relatives in eastern states." OS Jul 5, 1919 1:5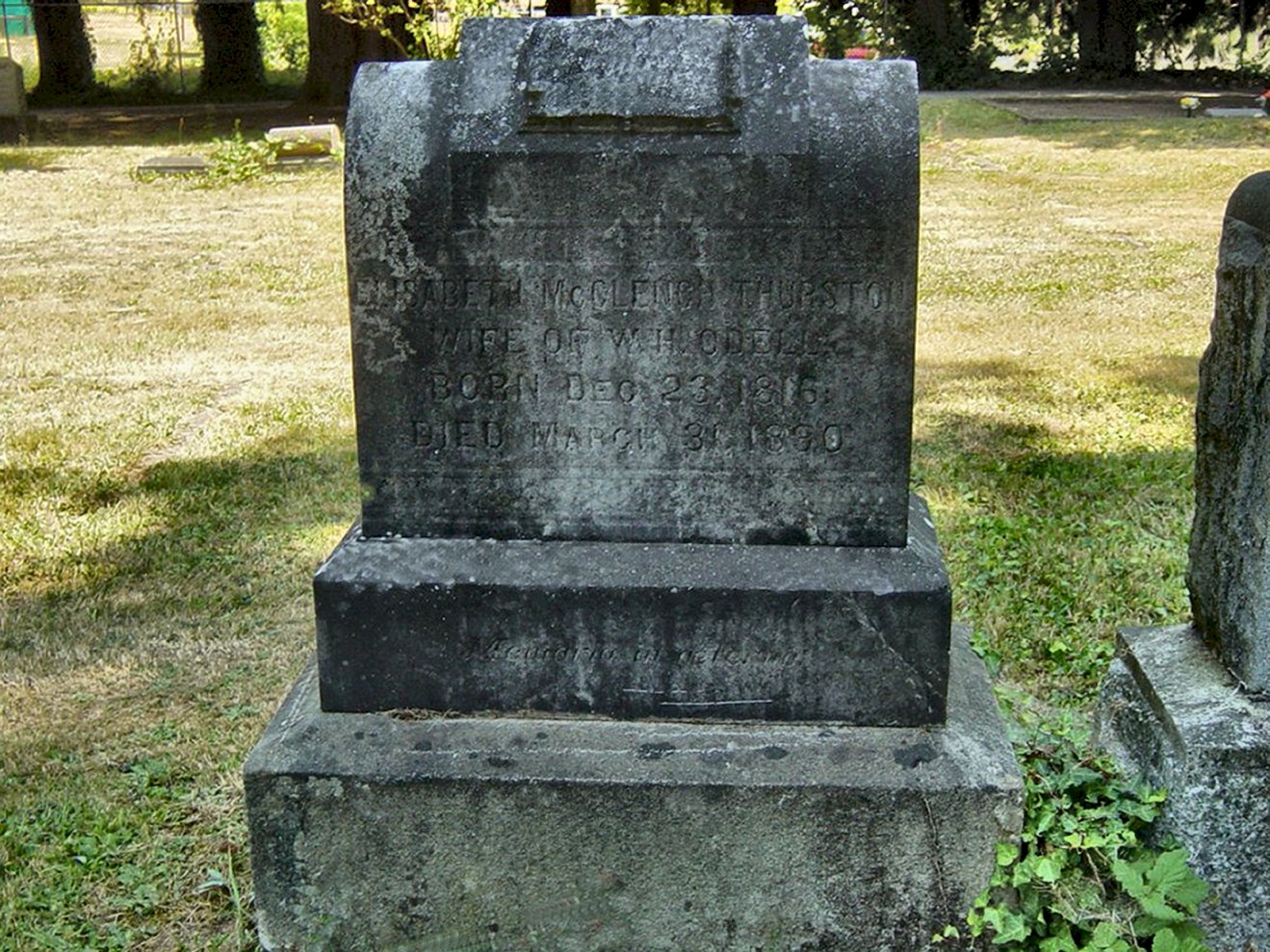 ODELL, Elisabeth McClench Thurston
b. 23 Dec 1816
d. 31 Mar 1890 OLD 138-06
wife of W.H. Odell
memoria in Aeterna
"At Portland, Or., March 31, 1890, after a protracted illness, Mrs. Elisabeth F. T. Odell.
Deceased was the wife of a prominent citizen of Salem and Oregon, and herself a talented and distinguished woman, whose death will be regretted by a circle of friends and acquain-tances extending all over the state.
For many years she made her home in Salem, and at the time of her marriage to General Odell, she was the widow of the late Congressman Thurston. No woman ever lived in this city who had a larger circle of friends to whom she was endeared, both by the ties of church and society, in both of which whe was a leader and strong fellow worker.
For a half century she was an active working force in the M. E. church, where she was recognized in many ways for her marked abilities, and for her many Christian virtues. As a woman and a citizen, her sympathies were all of a broad character. She was an aboli-tionist and afterwards a strong national republican, taking liberal views on all subjects. She was a woman of culture and devoid of that masculinity sometimes prominent in the strongminded of her sex.
Mrs. Odell was a very able writer, and for several years was a contri-butor to the church Journal published by the ladies of Salem. In 1884 she wrote and published `A Semi-Centennial Offering', a historical sketch of the Salem church and Willamette Univer-sity. Beautiful in her life, she was beautiful in word, thought and action, and her works and influences speak in her praise.
Of her long illness, suffering and final relief her friends are advised. The remains will be brought to Salem Wednesday. The funeral at her old home church, which she helped to found, will be conducted by Rev. Wm. Rollins, he preaching the sermon, assisted by Rev. Wire, who will give a biographical sketch and Rev. Newell will follow with a tribute. Prof. Parvin will conduct the service of song. The remains as before announced will be laid at rest in the Lee Mission cemetery at 10 a.m." CJ Apr 1, 1890 See also: OS Apr 2, 1890 6:3; OS Apr 1, 1890 4:3; PCA Apr 9, 1890


ODELL, William Holman
b. 25 Dec 1830
d. 26 Apr 1922 OLD 138-08
He grew for service strong
"W.H. Odell Passes Away--Former Resident of Salem Dies Suddenly at Niece's Home--William H. Odell, 92, for more than 40 years a member of the board of trustees of Willamette university of which board he was president for many years, died at his residence in Portland late yesterday. The news came as a surprise to his many friends in Salem since he had been in Salem Tuesday for the funeral of his friend, W.H. Byars. Mr. Odell like Mr. Byars, was a former publisher of The Statesman.
General Odell had made his home in Portland for the last 12 years and at the time of his death lived with a niece, Mrs. L.H. Baker. A brother died recently and it is not known that he had any other near relatives. Guy O. Smith of Salem is a distant rela-tive.
University Loyally Supported--General Odell was member emeritus of the board of trustees of the university at the time of his death. During the dark days of Willamette when for a time it was thought the institution would be moved to Portland, General Odell stood loyally by the claims of the local members. He was one of the five members of the board who were always present for board meetings in those days, thus furnishing a quorum and enabling those in charge to conduct business. The other four members who are now living, according to G.P. Litchfield, himself one of the five, are Dr. John Parsons of Portland, who will preach General Odell's funeral sermon; C.B. Moore, also of Portland, and Dr. John Reynolds, who recently died in Salem.
Pictures are Presented--Although relieved of active duties on the board, General Odell often attended meetings and was keenly interested in the welfare of the university. One of his last acts for the institution was the furnishing of two rooms in Lausanne hall. He was married twice and the rooms are memorials to his wives. A picture of each hangs in the respective rooms with a short historical sketch. When in Salem last spring General Odell took keen inter-est in hanging these pictures so that the light was just right, according to Dean Frances Richards. The rooms are located in the northwest corner of the second floor.
Public Offices Held--General Odell's first wife was Mrs. E.F. Thurston, widow of the first Oregon delegate to congress. His second wife was Carrie B. Taylor. He was born in Carrol county, Ind., in 1830.
He served as deputy surveyor and later as surveyor general of Oregon between the years of 1864 and 1874. He became owner of the Oregon States-man in 1877 which he published until 1884. He was later postmaster in Salem.
Funeral Saturday--No definite information regarding the immediate cause of his death was received. Rev. Blaine E. Kirkpatrick was informed that the funeral would be from the First Methodist church Saturday at 1:30. Dr. John L. Parsons of Port-land, a life-long friend of General Odell, will be in charge of the service. Burial will be in Jason Lee cemetery, where both of his wives are buried." OS Apr 28, 1922 1:5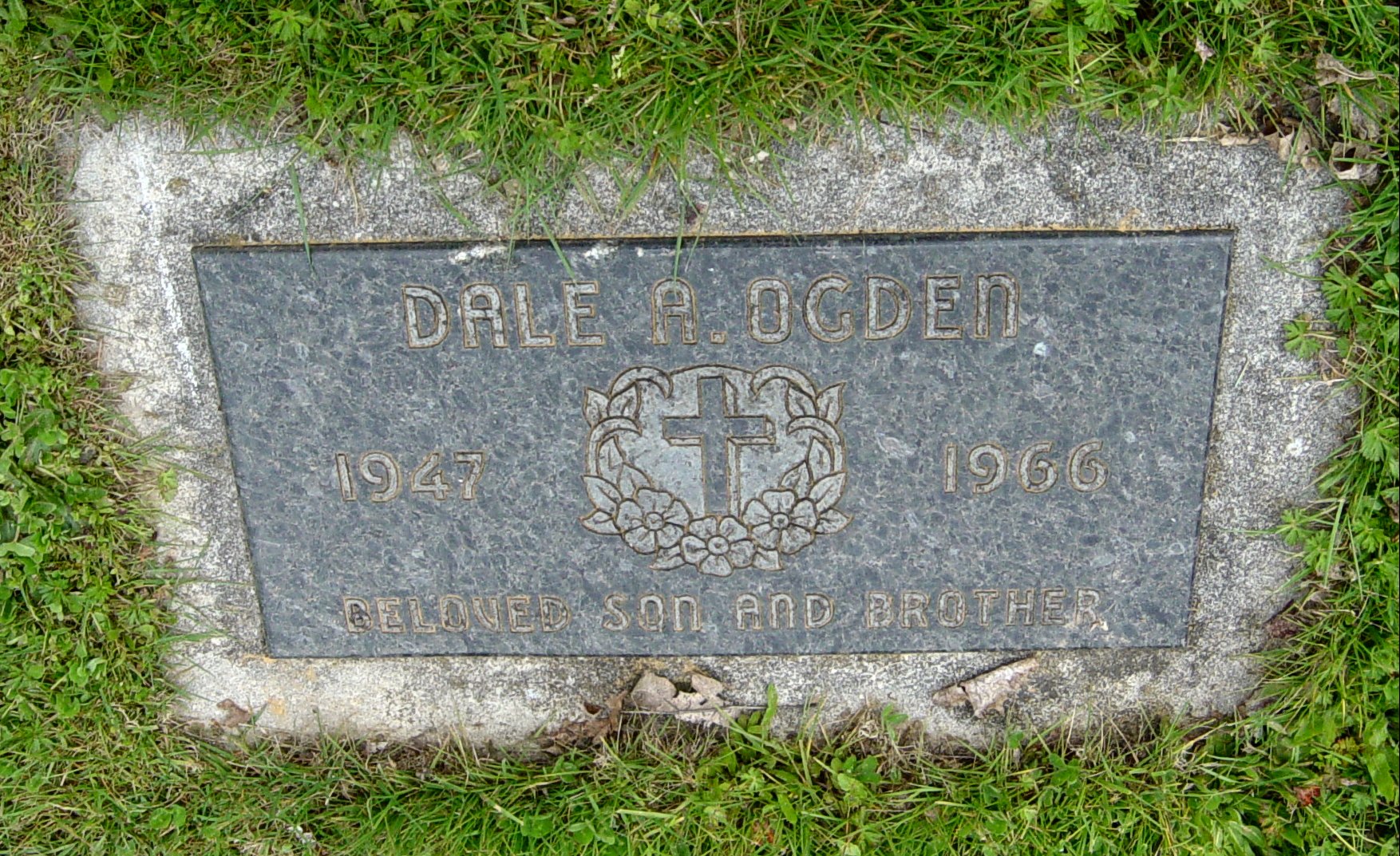 OGDEN, Dale Allen
b. 1947
d. 30 Oct 1966 RA-35-12
Beloved son and brother
"Services will be today at 3 p.m. at Howell-Edwards funeral chapel for Dale Allen Ogden, 19, of 3590 Monroe St. NE, who was fatally injured in an auto accident Saturday night in Salem. Interment will be at Lee Mission Cemetery." OS Nov 2, 1966 15:6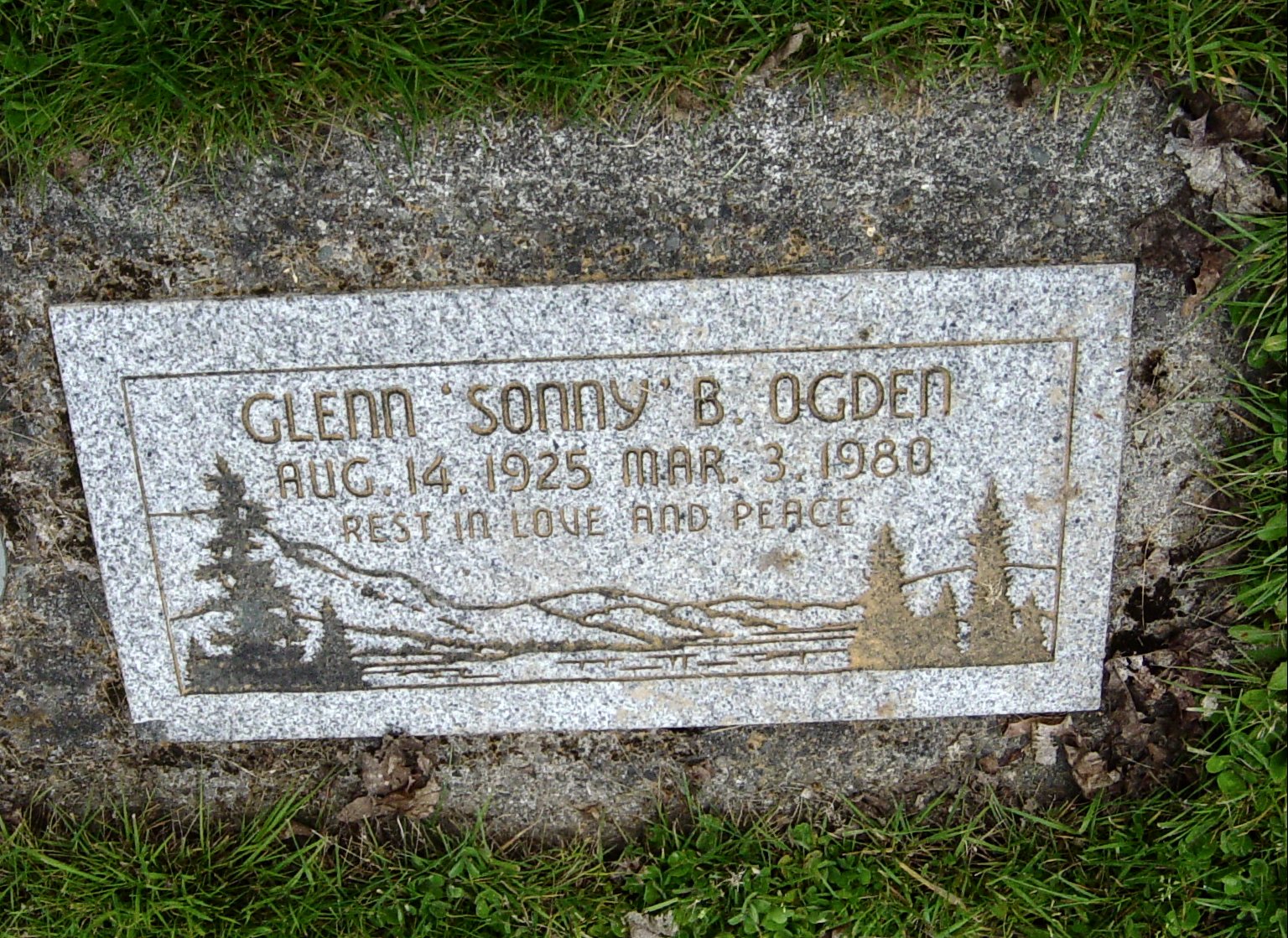 OGDEN, Glenn B. "Sonny"
b. 14 Aug 1925
d. 03 Mar 1980 RA-26-09
Rest in love and peace
"Glenn B. "Sonny" Ogden, 52, 6003 Angle Drive NE, died Monday at a Salem hospital following a brief illness.
He was born in Bingham, Utah. He moved to Salem in 1968 from Wamic, Ore. He served in the Army for 18 years. He later worked for seven years as a custodian at the Oregon College of Education in Monmouth, retiring in 1979.
Survivors include wife, Rae G.; son, Wayne Bowers, Salem; daughters, Carrie Bowers, Becky Bowers and Glenita Ogden, all of Salem; parents Mr. and Mrs. Lee Beeson, Salem; brothers, Lee, Jerry, Joel and Ray, all of Salem; sisters, Elthea Mattis, Betty Applegate, Wanda Davis, Kay Bentley and Jo Ann Laymon of Salem, Nodie Mitchell, Los Angeles, Calif., and Linda Karakostas, Boston, Mass.
Services will be at 10:30 a.m. Thursday at Howell-Edwards-Doerksen mortuary. Interment will follow at Lee Mission Cemetery." SJ Mar 5, 1980 1C:2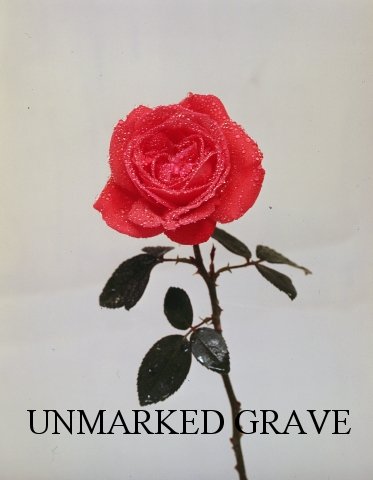 OGLESBEE, Olga Mund
b. 24 Aug 1901
d. 22 Oct 1993 D-06-04-05
"Olga Mund Oglesbee, 92, of Salem died Friday.
She was born in Whitemouth, Manitoba, Canada, and moved to Oklahoma. She later came to Salem, attended Salem public schools and married Raymond Oglesbee. He is deceased.
For many years she worked as a telephone operator with the state of Oregon, and attended the Church of Jesus Christ of Latterday Saints.
Survivors include her son, Richard of Hillsboro; sister, Violet Darby of Glazy Bay, Nova Scotia, Canada; three grandchildren and two great-grand-children.
Graveside services will begin at 2 p.m. Wednesday in Lee Mission Ceme-tery. Arrangements are by Barrick mortuary." SJ Oct 26, 1993 3C:4

OGLESBEE, Raymond Earl
b. 08 Mar 1902
d. 22 Nov 1982 D-06-04-05
US Navy World War II
"Philomath--Raymond Earl Oglesbee, 80, 337 Marion St., died Monday.
Born in Buena Vista, he came to Philomath in 1975 from Salem. He was a Salem fireman for 20 years prior to World War II, a Navy veteran and a member of Pacific Lodge 50, AF&AM, and the Church of Jesus Christ of Latter-Day Saints.
Survivors include wife, Olga; son, Richard, Portland.
No public services will be held. Arrangements are by McHenry mortuary, Corvallis." SJ Nov 24, 1982 2B:6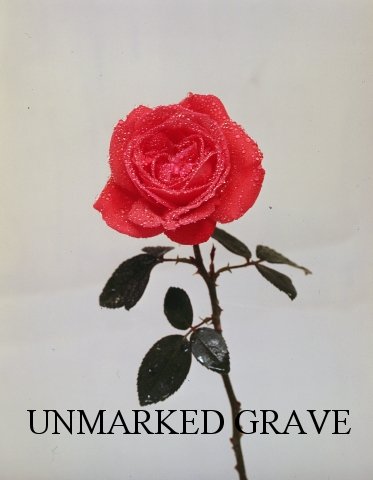 OHLSON, Baby
b. 04 Nov 1949
d. 04 Nov 1949 C-43-02-01
Record of Interment #1663; Baby Ohlson, 0 days old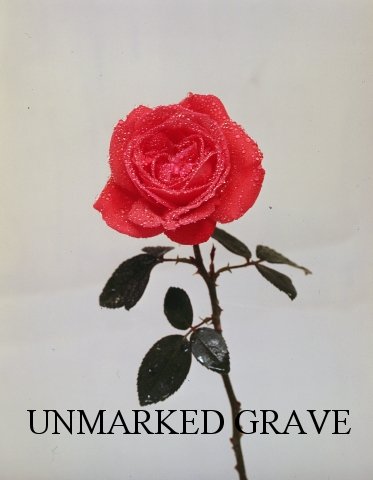 OKAWA, Henry
b. 1867
d. 19 Jan 1890 N/A
"Okawa--At his boarding rooms on the Campus of Willamette university, Friday evening, January 17th, 1890, Henri Okawa, aged 23 years.
The deceased was a native of Tokio, Japan, and has been in the United States some five years. He came to this country with the intention of studying law and attended the state university at Eugene a short time, but became converted to the Christian religion and entered Willamette uni-versity some three years ago to study for the ministry with the ultimate view of becoming a missionary among his people. He has a brother who is now attending high school in Oakland, California, and is his only relative in this country.
He was taken down with malarial fever some three weeks ago and despite the best medical attention and care this developed into typhoid fever several days since, ultimately ending in his death. Funeral services will be conducted at the university chapel Sunday afternoon at 2:30 under the auspices of the Philodiran literary society, of which he was a member, and the remains will be buried in the Lee Mission cemetery.
This is the first case of death among the students upon the university grounds during its history, and the young man is sincerely mourned by his fellow students. He was very popular among them, his good disposition, his being without associates of his own nationality, and his entire devotion to what he considered his duties, making him a general favorite." DOS Jan 18, 1890 4:3

OLIPHANT, J. Orin Dr.
b. 23 Mar 1894
d. 24 Feb 1979 A-27-04-01
Scholar & Teacher
"Dr. J. Orin Oliphant, 84, of 1525 D St., died Saturday in a local hospi-tal.
Born in Washington, he graduated from Eastern College of Education, received a master's degree from the University of Washington, and doctor's degree from Harvard University. He taught at Antioch College in Ohio, and taught American history for 30 years at Bucknell University in Pennsyl-vania. He was the author of several books about Oregon and a member of Masons and First United Methodist Church and a veteran of World War I. He was a resident of Salem for 15 years.
Survivors include wife, May C.; sons, Frank A. Purdy, Mill Valley, Calif., James P. Purdy, Bellevue, Wash., and Robert E. Purdy, Salem; sister, Elsie Ogden, Tacoma, Wash.; six grandchildren.
Memorial services will be at 1:30 p.m. Tuesday in First United Methodist Church and interment in Lee Mission Cemetery. The casket will be open from noon Monday to 9 a.m. Tuesday. The family suggests contributions to the First United Methodist Church Memorial Fund." OS Feb 25, 1979 1C:4

OLIPHANT, May C. Purdy
b. 01 May 1893
d. 08 Dec 1985 A-27-04-02
She Loved Her God, Family & Friends
on marker w/J. Edgar Purdy
"Memorial services will be 2 p.m. Sunday at First United Methodist Church for May C. Oliphant, 92, of Dallas, formerly of Salem, who died Sunday.
Graveside services will be 10:30 a.m. today at Lee Mission Cemetery, with arrangements by Virgil T. Golden mortuary.
Born in Waitesburg, Wash., she graduated from Cheney Norman School, Wash., and was employed as a teacher. She moved to Salem in 1939 and was a member of the United Methodist Church. She was a national officer in the Women's Society and a secretary for 12 years at First United Methodist Church, retiring in 1961. Survivors include sons Robert E. Purdy, Salem, James P. Purdy, Bellevue, Wash., and Frank A. Purdy, Woodland Hills, Calif.
Contributions may be made to Jason Lee Manor." SJ Dec 11, 1985 2B:2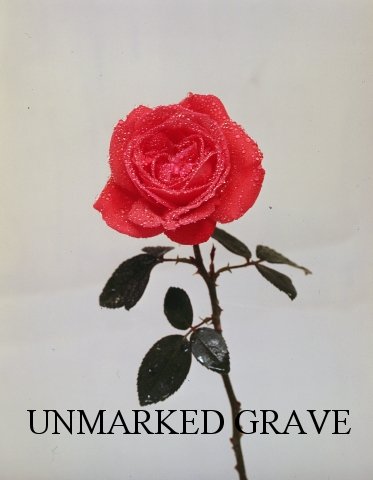 OLMSTEAD, Herbert W.
b. 1863
d. 1898 D-10-03-01
age 35y1m; residence Hillsboro; Christina Olmstead, mother; per Record of Interment #249

OLNEY, Orville
b. 07 Feb 1832 OH
d. 27 Apr 1902 Salem, OR C-47-03-04
1 Lieut 2 Oreg Mtd Vols Indian War
s/o William Olney and Charlotte Tanner
h/o Ellen Tenino
"Olney--At the Oregon state insane asylum, Salem, Oregon, Sunday, April 27, 1902, Orville Olney, aged 64 years." DJ Apr 28, 1902 4:4
1860: Fifteen Mile, Wasco County, Oregon, August 13, 1860; O. Olney, 28, farmer, $1200 $200, OH; Ellen, 18, Indian, OR; Louise, 4, OR; Joseph, 3/12, OR; Geo Woods, 34, laborer, $0 $100, NY
1880: Sumner, Coos County, Oregon, June 29 & 30, 1880; Orville Olney, 48, farmer, OH NY NY; Louisa, 22, dau, school teacher, OR OH OR; Alex, 19, son, farm laborer, OR OH OR; Eleanor, 16, dau, housekeeper, OR OH OR
1900: East Salem Pct, Marion Co, Oregon, Oregon State Insane Asylum, June 27, 1900; Orville Olney, inmate, Feb 1838, 62, wid, OH unk unk, laborer

OLSEN, Nicolai P.
b. 1847
d. 24 Jun 1924 OLD 228-15
"Olson--At the Old People's home Tuesday, June 24, 1924, Nickolai P. Olson, age 82. Funeral services will be held Thursday, June 26, 1924, at 10 a.m. from the Rigdon mortuary. Interment in Lee Mission cemetery. Dr. Blaine E. Kirkpatrick will officiate." CJ Jun 25, 1924 7:4
OLSON Jr., Danny Edward "Nunu"
b. 03 Oct 1875 Albany, Linn County, Oregon
d. 08 May 2014 Salem, Marion County, Oregon RC-10-23
"Danny "Nunu" Edward Olson, Jr.October 3, 1975 - May 8, 2014
Danny Edward Olson, Jr. 38 of Salem, Oregon passed away May 8, 2014 at his home.
Danny was born October 3, 1975 in Albany, Oregon to Amelia Castillo and Danny Olson both of Salem, Oregon.
Danny graduated from McKay High School in Salem, Oregon in 1994. His favorite pastime was spending time with his two children, Danny and Dezaray. He also enjoyed working on his vehicles, fishing and spending time with family and friends.
Danny was a great son, father, brother, uncle, cousin, nephew and friend. He would do anything for anybody any time.He is survived by his parents, two children and sister, Tricia Garza.
He was one of 32 cousins and he had 47 first cousins and was a Great Uncle to three beautiful nieces, Chentil Olson, Anaya and Hope. He was preceded in death by Grandma and Grandpa Castillo, Grandma and Grandpa Olson and two aunts.Danny was employed as a production assistant at Production Corporation of America for the past 15 years and was loved by his co-workers.
Viewing will be held Today, Tuesday, May 13, 2014 from 4-6:30 p.m. A Rosary will be held from 6:30-7:30 p.m. at Virgil T. Golden Funeral Service at 605 Commercial Street SE, Salem, Oregon.
A memorial service will be held Wednesday, May 14, 2014 at 10 a.m. at Oak Park Church of God, 2990 Lancaster Drive NE, Salem, Oregon. Burial will follow immediately after the service at Lee Mission Cemetery, 2104 D Street, Salem, Oregon. A gathering will follow back at the Oak Park Church of God at the above address. Casual dress please. [Statesman Journal May 13, 2014]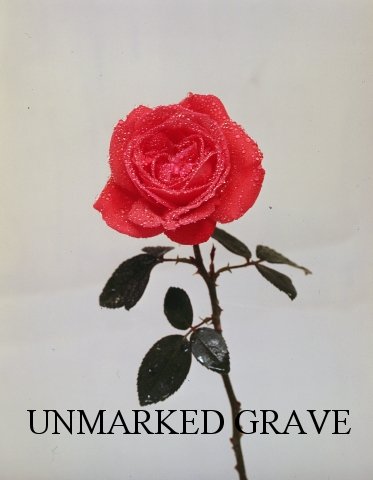 OLSON, Elmer
b. 1875
d. 29 Jul 1915 C-48-03-04
Record of Interment #670
D/C #4539, Elmer Olson, single; died from pulmonary tuberculosis at Oregon State Hospital
OLSON, Vernon & Patricia
b.
d. Reserved RC-08-22


OLSON, Vernon & Patricia
b.
d. Reserved RC-08-23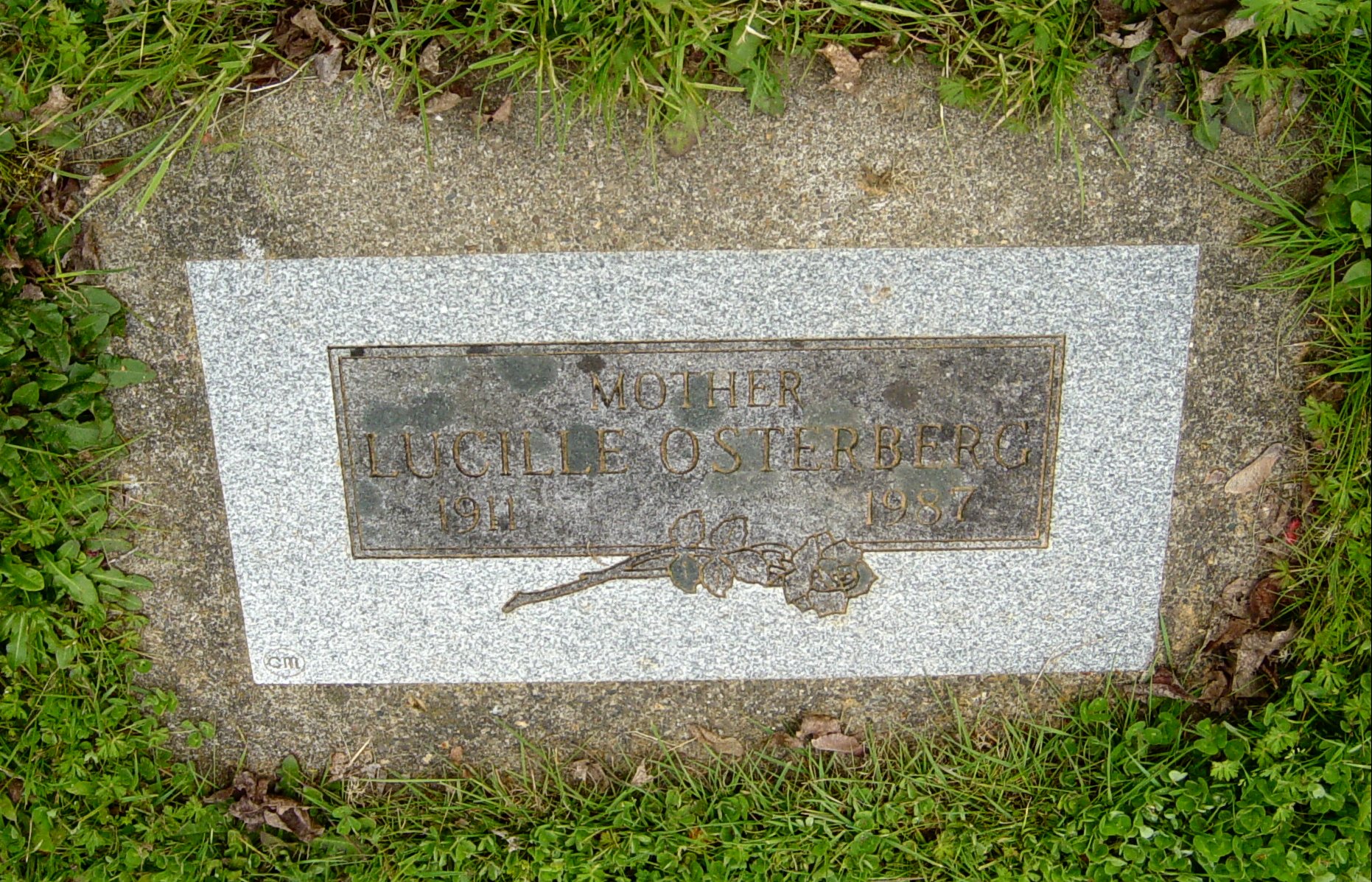 ONG, Megan Nadine Leeanne
b. 23 Dec 1996
d. 30 Dec 1996 C-43-07-15

ORGAN, Ruhama
b. 20 Aug 1936
d. Reserved RA-21-07

ORR, Darel William
b. 16 Apr 1920
d. 21 Oct 2008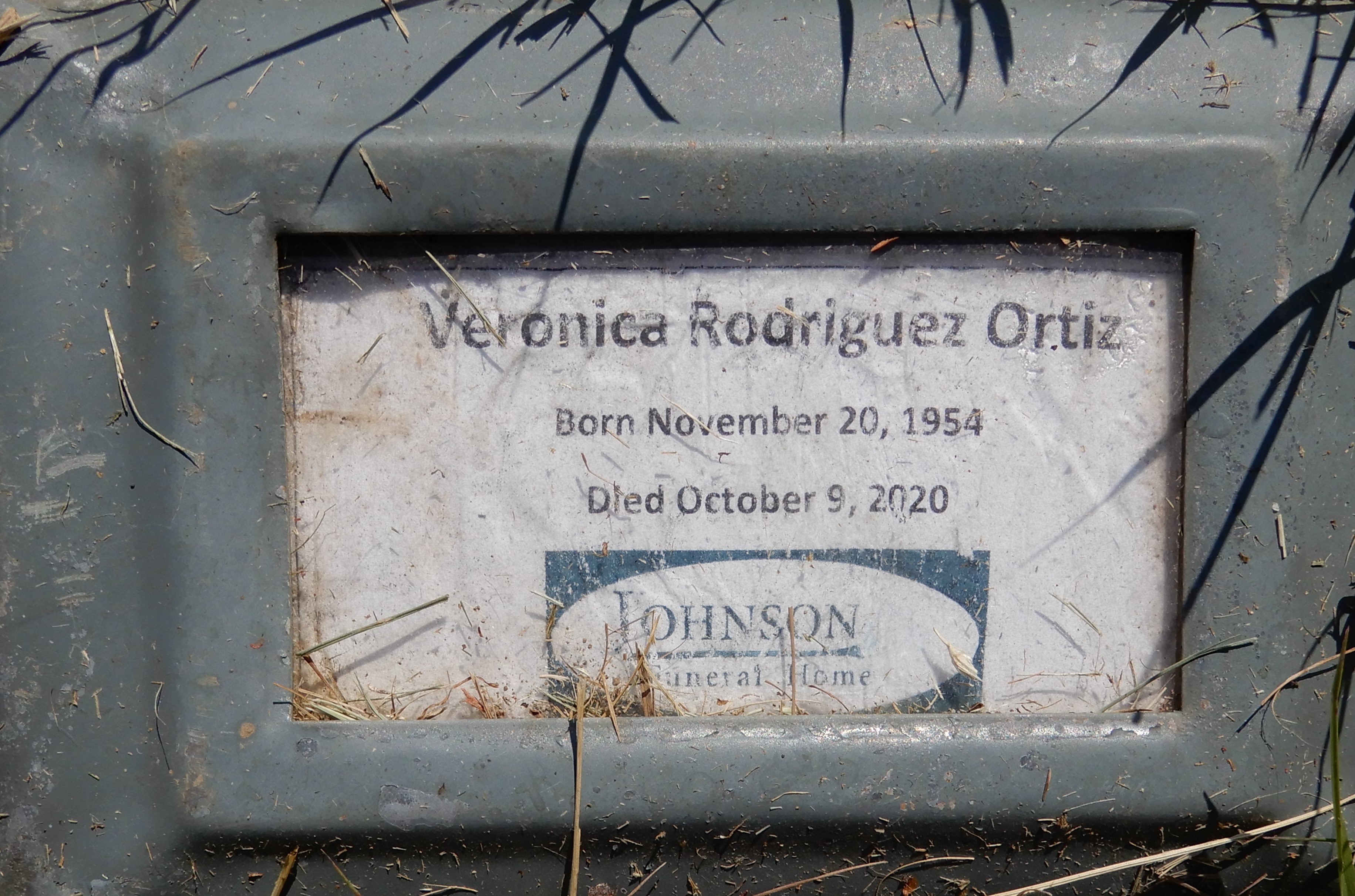 ORTIZ, Veronica Rodriguez
b. 20 Nov 1954
d. 09 Oct 2020 RC-46-07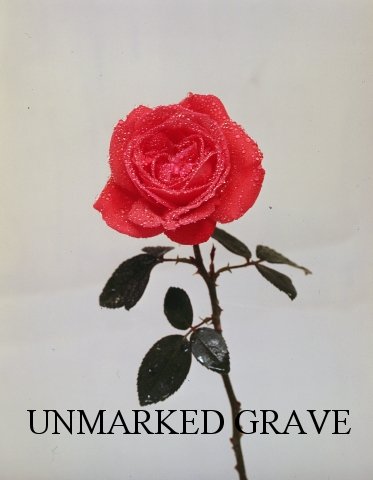 OSBORNE, Eva A.
b. 1855
d. 23 Sep 1918 D-24-02-01
"Osborne--At her home, 767 North Liberty street, Sept. 23, 1918, Mrs. Eva A. Osborne, at the age of 63 years. She was the widow of Jefferson Osborne and is survived by two chil-dren, Arthur Osborne of Portland and a daughter Mrs. M.R. Cottage of Albany.
The funeral services were held this afternoon at 3 o'clock from the chapel of Webb & Clough. Burial was in the Lee Mission cemetery." CJ Sep 24, 1918 10:7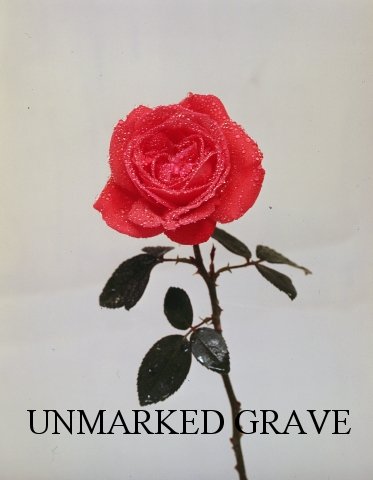 OSBORNE, Infant Boy
b.
d. 15 Jan 1949 C-47-01-14
buried in grave 3 (from west) of plot 14
Interment Record #1625
"At a local hospital, January 15, Baby Boy Osburn, infant son of Mr. and Mrs. Robert C. Osburn, Independence. Announcement of services later by the Howell-Edwards chapel." OS Jan 16, 1949 18:1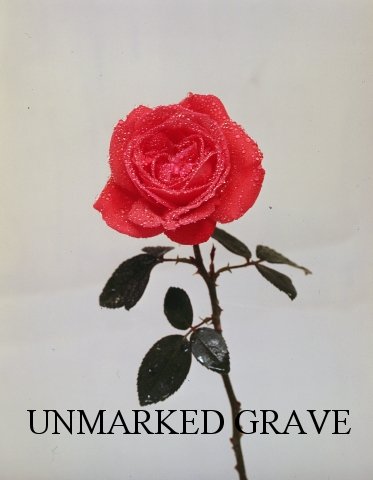 OSBORNE, Jefferson
b. 1847
d. 15 Mar 1914 D-24-02-02
"At a local hospital Monday, March 16, 1914, Jefferson Osborne, aged 67 years.
Funeral services will be held from Lehman & Clough's chapel this after-noon at 3 o'clock. The burial will take place in Lee Mission cemetery.
Deceased leaves a widow and several grown children who reside in this city at 835 Broadway street." DOS Mar 17, 1914 8:4


OSEQUERA,
b.
d. Reserved RA-09-08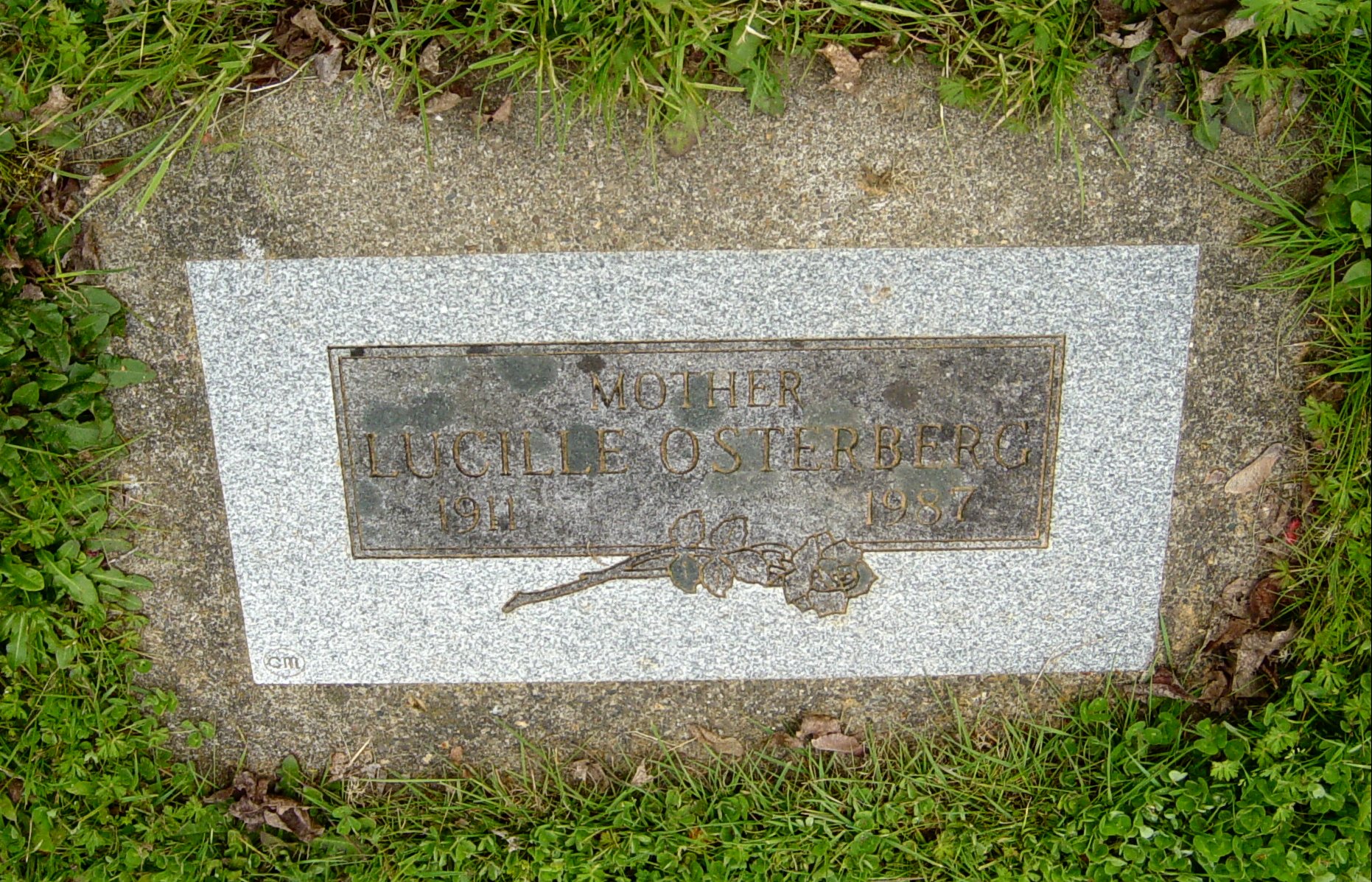 OSTERBERG, Lucille
b. 1911
d. 11 May 1987 RA-35-11
Mother
"Services will be at 2 p.m. Friday in Rigdon-Ransom mortuary, Salem, for Lucille Osterberg, 76, of Salem, who died Monday.
Private interment will follow in Lee Mission Cemetery, Salem. Visitation will be from 8 a.m. to 8 p.m. today and 8 a.m. to noon Friday at the mortuary.
She was born in Rhinelander, Wis., and came here in 1946. She was a sales clerk at Meier & Frank from 1963 to 1973. She was a member of St. Joseph Catholic Church.
Survivors include daughters, Dolores Smith, Mesa, Ariz., Nancy True, Eugene, Phyllis Lee, Salem, and Kalen Judah, Littleton, Colo.; and brother, Walter Kichefski, Miami, Fla.
Contributions may be made to the Alzheimers & Related Diseases Association or the American Cancer Society." SJ May 14, 1987 2B:5

OTJEN, August H.
b. 19 Oct 1874
d. 23 Jan 1966 D-25-03-02
on marker w/Ida M. Otjen
"Services will be at 1:30 p.m. Wednesday in the Barrick Funeral Home for August H. Otjen, 91, of 5223 Silverton Road NE, who died Sunday in a Salem nursing home. Interment will be in Lee Mission Cemetery.
Otgen, a native of Battle Creek, Neb., lived at his home on Silverton Road since 1910.
Survivors include his daughter, Mrs. Vera O. Bassett, Salem, one grandson and three great-grandchildren." CJ Jan 24, 1966 9:2

OTJEN, Gladys May
b. 27 Jan 1924
d. 08 Jun 1924 A-39-02-03
"Otjen--Gladys May Otjen, four months old daughter of Mr. and Mrs. Ben Otjen of 910 Rural avenue, died Sunday, June 8, 1924. Also survived by the following brothers and sisters, Alfred, Emil, Lorenda, Orin and Eliza-beth Otjen, all of Salem. Funeral services will be held from the Rigdon mortuary Tuesday, May 10, at 10 a.m., Rev. Chapman officiating. Interment Lee Mission cemetery." CJ Jun 9, 1924 7:7 d/o Ben & Grace (Proctor) Otjen per D/C #437

OTJEN, Ida M.
b. 23 Mar 1880
d. 02 Jun 1956 D-25-03-01
on marker w/August H. Otjen
"Late resident of 5305 Silverton Rd June 2nd. Survived by husband, August H. Otjen of Salem; daughter, Mrs. Vera O. Bassett of Salem; grandson, Donald W. Bassett also of Salem; 2 brothers, Henry Fenske of Sandy, Ore., and Jake Fenske of Canby, Ore. Services will be held in the Clough-Barrick Chapel Thursday, June 7, at 1:30 p.m. Rev. A.G. Jameson and Rev. Peter Becker will officiate. Interment Lee Mission Cemetery." OS Jun 5, 1956 7:1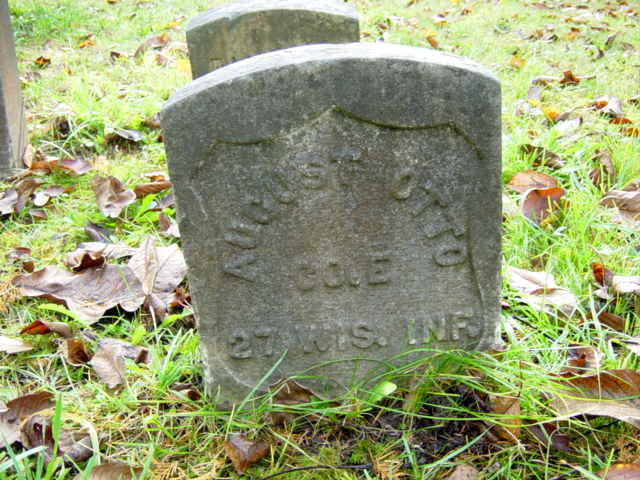 OTTO, August
b. 24 Aug 1829
d. 22 Nov 1903 OLD 204-07
Co E 27 WIS Inf
"Result of Injury--August Otto Died And Was Buried In Lee Mission Ceme-tery--August Otto, who was injured Sunday afternoon by being struck by a limb from a falling tree, died Sunday morning at 10 o'clock, from the effects of his wounds. The shock caused an attack of aploplexy, and he was taken to the home of his daughter, Mrs. Sewart, in an unconscious condi-tion, from which he never revived.
Deceased was 75 years old at the time of death, and had lived in Oregon for the past twenty-six years, on the farm near the Pringle school house, four miles south of this city. The funeral services were held at the Evangelical church, on the corner of Center and Liberty streets, of which the deceased was a member, at 10 o'clock yesterday morning, conducted by Rev. E.D. Hornschuch, and the remains were interred in Lee Mission cemetery." DOS Nov 25, 1903 6:3-4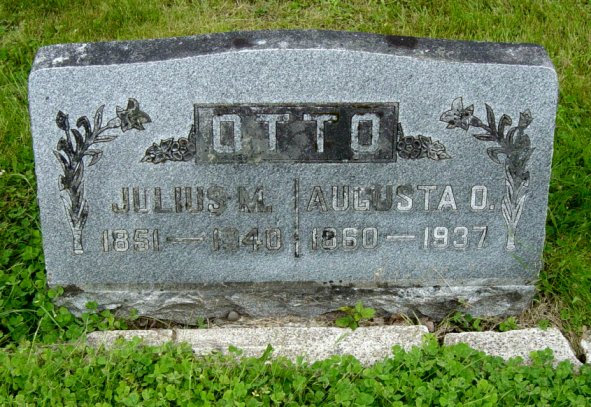 OTTO, Augusta O.
b. 1860
d. 05 Jan 1937 C-21-04-03
on marker w/Julius M. Otto
Interment Record #1386
"At home on route six, Tuesday, January 5, Augusta Otto, aged 77 years. Beloved wife of Julius Otto, mother of Rev. Ewald Otto of Omaha, Nebr., Mrs. Theresa Lienke and Julius Otto, both of Minneapolis, Minn., Paul Otto of Saskatchewan, Canada, Mrs. Ernest Ross of Tawas City, Mich., Mrs. C.S. Schuenburg of Sheridan, Edwin Otto of Salem. Funeral services Friday, January 8, at 2 p.m. from Salem Mortuary chapel with Rev. Gross officiating. Interment at Jason Lee cemetery." OS Jan 7, 1937 5:2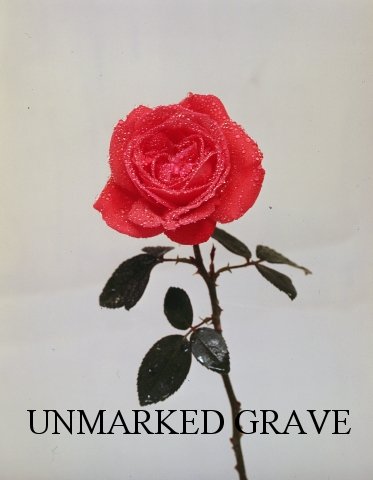 OTTO, Caroline
b.
d. 30 Apr 1884 OLD 204-08
"Died---At her residence four or five miles east of Salem at 12 noon, April 30th, 1884, Mrs. August Otto, a most estimable christian lady. She was ill only a few days. The funeral procession will leave the home of the deceased at 12 p.m. (May 2d), and reach Lee Mission Cemetery a little after one o'clock p.m. Rev. F.J. Strayer officiating." WOS May 9, 1884 1:4 wife of August; d. 30 Apr 1884; age 62 yrs 11 mo 6 days per marker that was read June 1969; marker is currently broken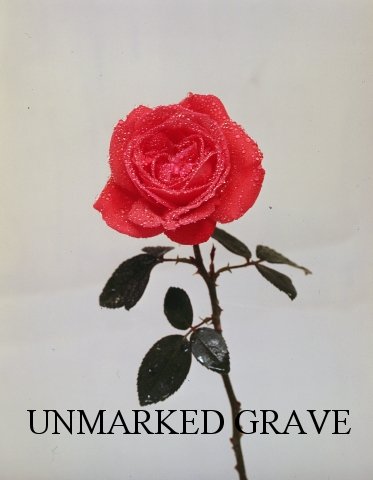 OTTO, Child
b.
d. OLD 204-06
child of August Otto per Record of Interment #184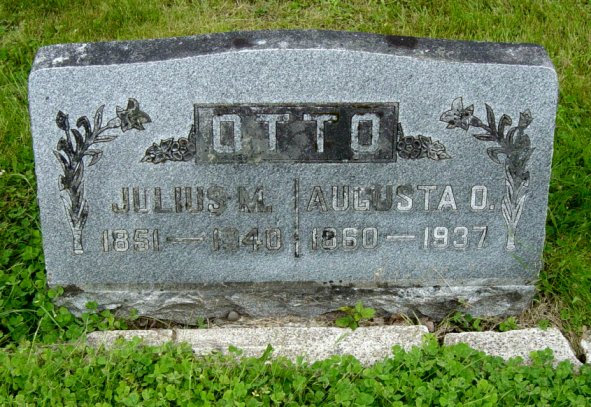 OTTO, Julius Martin
b. 01 Nov 1851
d. 04 Jul 1940 C-21-04-02
on marker w/Augusta O. Otto
Interment Record #1581
"Julius Otto, at the residence, 3615 Center street, July 4, aged 88 years. Survivors include a daughter, Mrs. C.F. Schulenburg of Sheridan, two other daughters, and four sons; 22 grandchildren and five great grand-children. Remains in care of Walker & Howell funeral home. Services Friday, July 12, at 2 p.m." OS Jul 6, 1940 5:1
D/C #599 Julius Otto, s/o Peter & Anna (Ickert) Otto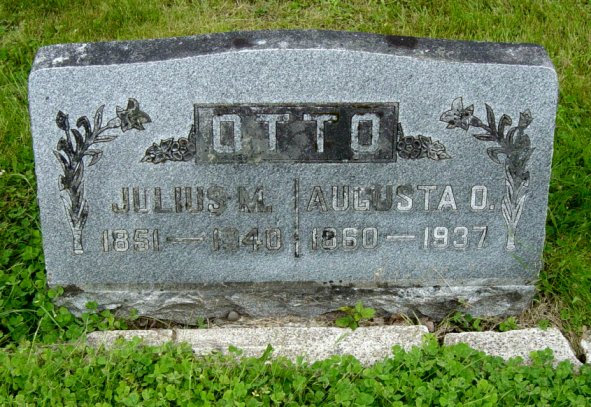 OTTO, Oscar John
b. 1891
d. 23 Oct 1923 C-21-04-04
Asleep in Jesus
Interment Record #936
"Otto--Oscar John Otto, 32 years, route 6, died Monday evening. Survived by parents, Mr. and Mrs. Julius Otto, three sisters, Fay F. Rink, Minneapolis, Mrs. Ernest Ross, Roger City, Mich., Mrs. C.F. Schulenburg, Lebanon, four brothers, E.T. Otto, Omaha; Paul, Canada; Edwin, Denver; Julius, Minneapolis. Veteran of World War, member of Company M. Remains in care Terwilliger home." OS Oct 23, 1923 5:3
OUCHIDA, George
b.
d. 06 Nov 2017 RA-09-05
OWEN,
b.
d. D-05-03-04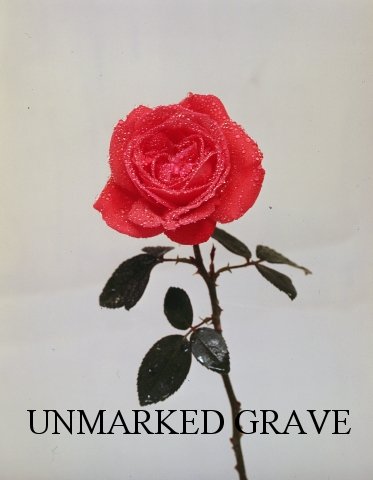 OWEN, James William
b. Jul 1908
d. 18 Feb 1912 D-05-03-02
"At the home of his father, Samuel Owen, 2204 Broadway, Salem, Or., Sunday, February 18, 1912, James William Owen, aged three years and seven months.
The funeral will be held from the home at 10:30 this morning. Interment will be made at the Lee Mission ceme-tery. Rev. R. N. Avison will conduct the services." OS Feb 20, 1912 5:6

OWEN, Samuel E.
b. 1860
d. 21 Apr 1929 D-13-01-01
"Samuel E. Owen, 2104 Broadway street, died Sunday, April 21, at the age of 68 years. Survived by his widow, Pearl, and one sister, Mrs. J.D. Woodward, Silverton; and two brothers, George Owen of Salem, and C.B. Owen of San Pedro, California. Funeral services Tuesday afternoon at 2:30 o'clock at Clough-Huston's with Rev. F.C. Taylor officiating. Inter-ment Lee Mission cemetery." OS Apr 23, 1929 5:4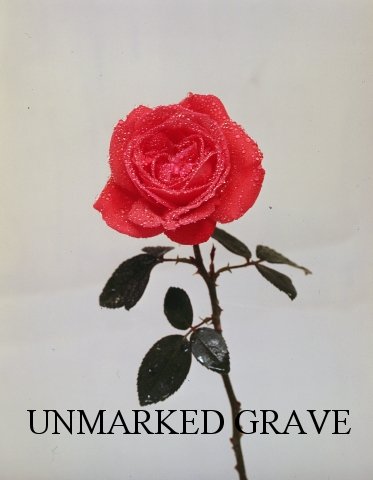 OWEN, Thursa Ann
b. 10 Mar 1841
d. 17 Feb 1911 D-05-03-01
"Owens--At the family home at Highland addition to Salem, Oregon, Friday, February 17, 1911, at 1:30, Mrs. Anna Owens, aged 69 years, eleven months and 7 days.
Deceased is survived by two sons and two daughters and her husband. The funeral will be held from the Friends' church today at 1 o'clock and inter-ment will be made in Lee Mission cemetery." DOS Feb 18, 1911 5:5 d/o Margaret (Long) Taylor; born IA; died from abdominal tumor per D/C #478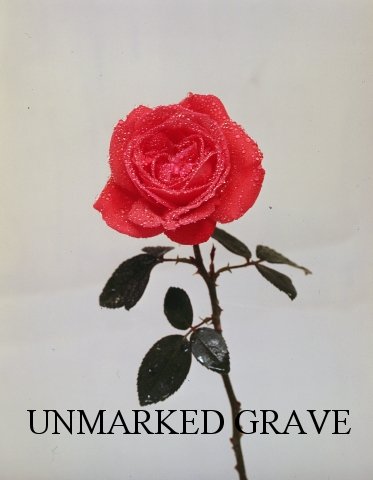 OWEN, William Henry
b. 1827
d. 20 Oct 1913 D-05-03-03
"Owen--William H. Owen, at the family residence, 2204 North High street, Salem, Or., October 20, aged 86 years.
The funeral services will be held today (Wednesday) at 2 o'clock p.m., from the Highland Friends church, Rev. Charles Scott officiating. The burial will take place in Lee Mission ceme-tery." OS Oct 22, 1913 6:3 b. NY; s/o Samuel Owen; widowed; carpenter; per D/C #3561